Now when people need a service or product, it's straight to Google for the answers.
Google is used for everything – which means you need to make sure Google can see your business and promote it to more potential customers.
If you haven't heard of Google My Business before or haven't set up an account with it yet then you're missing out on a great opportunity to help your business grow.
Google My Business (GMB) is a great (free!) tool to use if you want to improve your local SEO (search engine optimisation) and bring in more customers to your company.
GMB is the perfect way to help promote yourself in your local area. People search for products and services near them and if your business appears on Google for them then they're more than likely going to visit your store and make a purchase.
It's important that the information about your business is available when they search for terms relating to your products or services. This is where Google My Business can help.
What is local SEO?
Local SEO or local search engine optimisation is one of the most effective ways you can market your business online to your local community. It is the perfect way to help you promote your products and services to customers in your local area while they search online.
Improving your local SEO will increase the chances of your business coming up in the search results that relate to your industry.
What exactly is Google My Business?
Google My business is a service provided by Google which helps promote local businesses in the online market. It helps you control how you appear online and allows you to appear in searches that relate specifically to your location. What makes Google my business so great is that it's absolutely free.
If you don't have a Google My Business set up yet then you're already a step behind your competition.
GMB lets you stand out in the crowded online market and helps your business be recognised easier by Google. It's an essential part of running an online business so you need to create an account as soon as you can.
How do I create a Google My Business account?
To get started with Google My Business you just need to claim your business. You can do this easily by simply searching for your business's name on Google.
If a Google My Business listing appears on the search engine then all you have to do is simply claim the business as your own to start the process.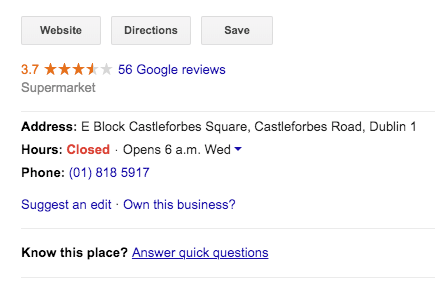 If your business isn't there then don't worry you can just go to the Google My Business page and register your business with them.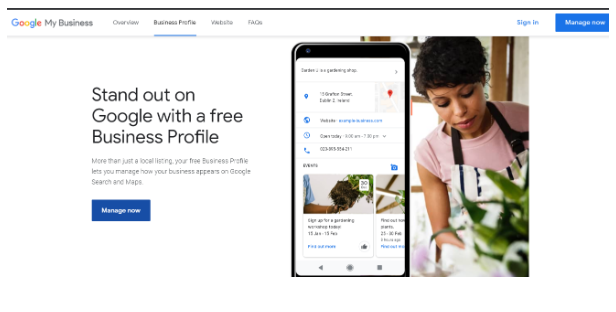 Having a Google My Business profile will allow your business to show up on Google Maps during local searches and it'll also show up on the sidebar of relative Google searches.
Fancy a blaa? Walsh's Bakehouse is Google's local recommendation!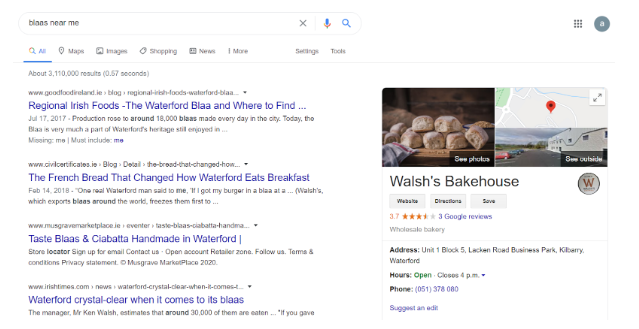 Once you get access to your Google My Business here are a few things you should concentrate on to ensure that your account is optimised:
Verify your listing
Provide up to date information about your company
Upload your logo and photographs of your business (use high-quality images)
Include your opening hours, payment methods and contact information
Write up a description of your company and the products that are offered
Respond to any reviews or feedback that are given by your customers
Encourage your customers to give reviews
How to verify your Google My Business Listing
When verifying your Google My Business listing you can do it by post, phone or email.
Most local Irish businesses will often use the post as phone verification might not be available (thanks Google).
Verifying over mail
If you verify using mail, Google will send you out a postcard that should arrive within 14 days of starting the verification process.
The postcard will have a verification number on it so you can use it to verify your business online.
It's important not to edit any of your business's information while you're waiting for your postcard to arrive. You should also make sure that your business address is correct on your account and abides by Google's address entry guidelines.
What are the benefits of Google My Business?
There are a lot of benefits to creating a Google My Business listing which really makes it worth your while when you set one up.
It also allows people to leave reviews of your business. This is great for your company as reviews help persuade more people into becoming customers. If they see positive reviews from your company then they're going to want to see what you're about and buy your products.
If you respond regularly to negative reviews and attempt to fix problems customers have had in the past then future potential clients will be able to see that you care for the wellbeing of your customers.
The greatest benefit of Google My Business, however, is that it's free and easy to use. You're not losing anything by registering your business with GMB which means that anything positive you get out of it is a 100% win.
Want to know more about Google My Business or how you can increase the local SEO for your website? Get in touch with us today and we can help you out.